Porsche 718 Cayman GT4
The Porsche 718 is a perfect sports car for those who love to push the limits. It boasts a unique aerodynamic body and power that gives you the thrill of a supercar and the comfort of your everyday vehicle. Porsche created the 718 as a high-performance vehicle, hot on the heels of the successful 911 GT3.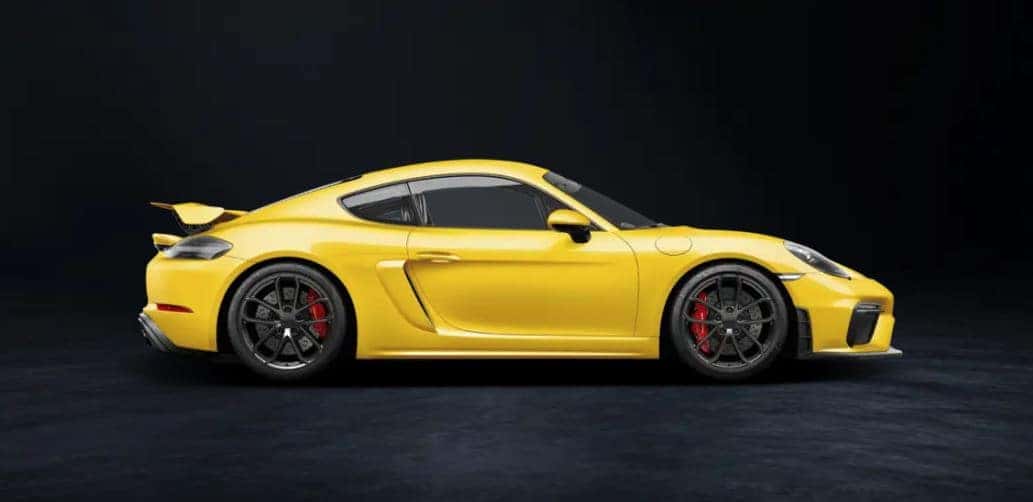 The Technical Specs
Porsche has installed an 81.5 mm stroke engine with a 3,995-cc displacement in the new Cayman. It produces 414 horsepower at 7,600 RPM. The engine has a maximum torque of 317 lb-ft when mated with an automatic transmission and 309 lb-ft with a manual transmission. Its top track speed is 188 mph, with a maximum acceleration of 3.7 seconds from 0 to 60 mph on an automatic transmission. The RS trim is the highest performing model, thanks to its top aerodynamic downforce figure. While Porsche is investing more in electric vehicles, this engine is a nod to the power of the past.
Cayman GT4 drivetrain features an aluminum engine block and cylinder head, VarioCam variable valve timing and lift, and a variable intake manifold with two switchable resonance valves. The rear-drive drivetrain is mated with a 6-speed manual transmission, a dual-mass flywheel, and an automatic option. It also has Porsche Torque Vectoring (PTV) with a mechanically locking rear differential.
Body Design and Interior
The two-seater vehicle has a mid-mounted engine. It also has a lightweight body made of steel composite and aluminum. Besides, it has a fixed rear spoiler and a wide-opening rear hatch with a heated window. The sports car has a closed underbody panel and two additional NACA ducts for the exhaust system.
718 Cayman GT4 interior is in black leather, including the steering wheel, headrests, and storage compartment. Its dashboard trim and center console are set in brushed aluminum, and there are two 12-volt sockets, one of which is in the passenger footwell. As for the entertainment, the model comes with an 8-speaker system with 150-watt output, SiriusXM, HD Radio, remote services, Siri, and wired Apple CarPlay.
The Porsche 718 combines performance with comfort and luxury, giving users the best experience of a track vehicle in a street-legal model. Some are saying it will be a modern classic. Users also enjoy premium Porsche services such as Porsche Vehicle Tracking System (PVTS). Get your Cayman GT4 today at Porsche WPB.