Is the Taycan the First of Many Electric Porsche Vehicles?
Like all automakers, Porsche is fully aware that the future of cars is electric. While the the manufacturer is taking it in stride for some of its cars, it is also keeping some of the classics, classic. For instance, it has developed the Porsche electric Taycan, but it is in no hurry to have its iconic 911 transformed into a full EV just yet. Porsche wants to keep the 911 non-electric as long as possible. Nonetheless, Porsche has announced that it wants to ensure that at least 80 percent of its new vehicles will be electric by 2030. And the key reason cited for keeping the 911 gas-powered is solely due to the engine. It is the masterpiece of the sports sedan.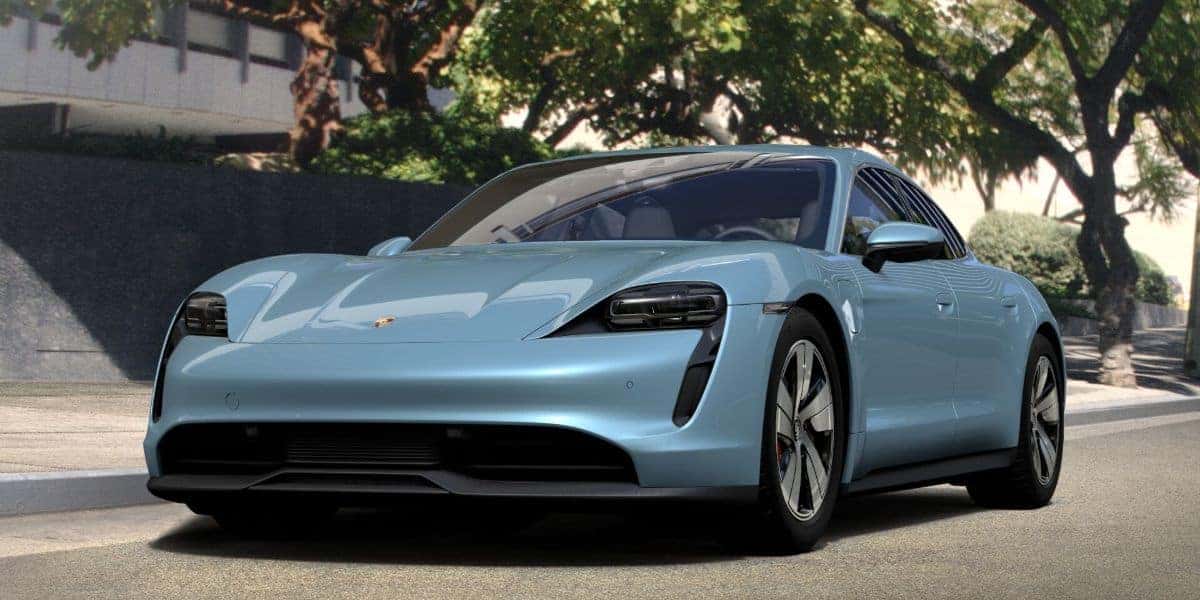 Porsche electric supercars are coming. Electric cars are powered by huge lithium batteries, so they tend to take up a lot of space, something that Porsche cars do not have because of the design. But it is hoped that within the next few years, researchers will be able to downsize the battery for electric cars and make them smaller and more compact.
Nevertheless, Porsche engineers have been able to accomplish a tremendous feat in the Porsche electric Taycan, along with several plug-in hybrids which account for nearly 17 percent of its new vehicles sold. The sporty Porsche hybrids have become popular in Europe where the green movement is affecting all industries.  Porsche says that by 2030, the 911 will remain gas-powered, with potentially a hybrid version coming, but it will not be fully electric.
To reduce carbon emissions, Porsche has also started to invest in e-fuels and become carbon neutral by the end of the decade.  E-fuels behave much like gasoline but are more environmentally friendly.
With Porsche being a high-performance car, going electric makes a lot of sense, since electric vehicles tend to be quicker and faster. Although, a high-performance engine may go through energy at a higher rate and, consequently, will need more frequent recharging. To counter this problem, Porsche is already investing in the 800-volt technology, which will provide longer mobility and require less frequent recharging. Better still, the car may only need to be recharged at home. More importantly, by raising the voltage to 800, the charging times may be significantly reduced.
Another challenge with a Porsche electric supercar could be profitability. The recent competition in electric vehicles has meant a reduction in the prices of cars, and, in many countries, there are regulations to be met for electric vehicles.
While gas-powered Porsche vehicles have been very profitable for the company, it will be a new challenge to ensure its electric vehicles bring in the same in the future. At the moment, the Porsche electric Taycan has done well on the market. Similarly, the two plug-in hybrids have also seen an increase in sales and include the Cayenne E-Hybrid and the Panamera E-Hybrid models. So far, so good.
Despite the Covid-19 pandemic, Porsche is one of the few luxury carmakers that has made a profit with a revenue of $3.4 billion last year, surpassing the previous year's figure by $119 million.
Porsche's future mission is in line with its parent company, Volkswagen, including the advent of the Porsche electric Taycan. The plans are to develop six battery cell factories and gradually increase the manufacture of electric vehicles in Europe by 2030. The eventual plan is to become carbon neutral within the next three decades. A Porsche electric supercar will benefit greatly from this development.
While Porsche would like to keep on manufacturing the gas-powered 911, the potential road-block is that many European cities may start banning the sale of new gasoline cars.  Only electric vehicles will be permitted. With many of its clients located in Europe, Porsche may have to rethink manufacturing gas-powered vehicles beyond 2030. The only thing certain for consumers who like Porsche cars is that the company will continue to make great cars for the foreseeable future.
To learn more about Porsche and its latest adventures, contact Braman Motorcars at 1-561-926-9141 or stop by their showroom today.