What Does the GTS Mean for Porsche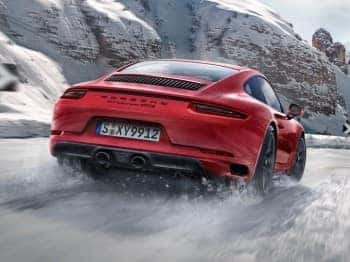 The Porsche GTS badge has a deep meaning that stresses the performance nature of any car that's earned it. In the 1950s and 60s, Gran Turismo races were the events to attend.
The Porsche GTS Badge
The Porsche GTS and its distinctive badge come from this era when Porsche cars competed in and won many of these events. The first "GT" badge was earned by the 356 Carrera GT in 1955, the first "GTS" badge by the 904 Carrera GTS.
In the 1990s, after the heyday of these grand races, the Porsche GTS badge made its way to a road car: the 928 GTS.
Even the Carrera brand comes from a tough road race. One of the most difficult and dangerous races was La Carrera Panamericana. It was exceptionally demanding: a 2,178-mile race that involved racers from every motorsport around the world.
Gran Turismo Races
"Gran Turismo" is Italian for "grand tour." Today, that era in motorsport has largely given way to cars driving short, repeated circuits. Gran Turismo, though, signifies a long, open-road endurance race.
Routes were often changed to ensure drivers didn't get complacent. The Targa Florio covered up to 671 miles at some points, often involving treacherous mountain roads. The Mille Miglia covered 1,005 miles. These races tested the chops of drivers, navigators and the cars they drove. Terrain was meant to involve hairpin turns, rough patches, bad weather – everything a car and its driver could face and endure.
Honoring Spirit, Performance, and Dedication
The spirit of these challenges lives on in every Porsche GTS – cars built for performance, endurance, and safety. The Porsche GTS badge signifies cars that can handle hairpin turns, rough terrain, wind, rain, and do so without losing their edge. It comes from a long history in a demanding sport.
That's what the GTS stands for – not just the words "Gran Turismo," but also the spirit of those races and the dedication of their drivers. We hope to deliver cars that bear that badge in a way that honors and lives up to that spirit.